The largest annual innovation conference in Israel, known as the DLD (Digital-Life-Design) Festival, was held in Tel Aviv for the fifth consecutive year. This year, close to 150 delegations from overseas – double the amount from the previous year – took part in the event.
Among the major companies to send representatives for the conference in Israel were Google, Samsung, Amazon and Facebook. This year, the conference organizers chose to focus on Food-tech (food technologies) – since this field has gained global momentum over recent years.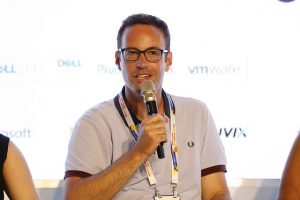 Amid the conference speakers was Gil Horsky, Senior Marketing and Innovation Manager at Mondelēz International."The fact that DLD chose to include this field in the annual conference is a testament to its continual growth, which is more prominent than that of other niche fields of digital technology," says Horsky.
"The agriculture and food industry are changing and evolving at a more dynamic pace," states Horsky. "Today's clients are not only interested in the product itself, but also how it's developed and distributed."
"Our goal for the future is to help people eat in a balanced way and enjoy their lives by using safe products," Horsky concludes. "Therefore, cooperation between technology and food is of the utmost importance."
:Relevant links
DLD Conference Celebrates Israel as a "World-Leader in Food Technology," says Horsky Innovation Executive at Mondelēz – PR Newswire-
Thousands attend startup nation's biggest tech conference – Israel 21c-
DLD Conference Celebrates Israel as a "World-Leader in Food Technology," says Horsky Innovation Executive at Mondelēz – Yahoo Finance-
Watch Horsky speak (From minute 3:56 to minute 4:30, from minute 17:40 to minute 20:06, and from minute 33:32 to minute 36:35)